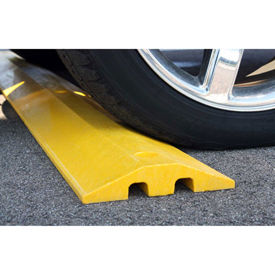 High Visibility Plastic Speed Bump With Cable Protection
Plastic Speed Bumps With Cable Protection Stands up to the Heaviest Trucks and Form Fits to Pavement Contours.

These plastic speed bumps are made with UV stabilized, high-density polyethylene with non-skid surface to resist weather, UV and chemical damage. Weather proof, 100% recycled solid plastic for long lasting durability. Available in Lengths of 48", 72", 96", 108" and 120". Plastic speed bumps are easy to clean and maintenance-free. Includes anchor bolts for installation. 5 Year Limited Warranty.