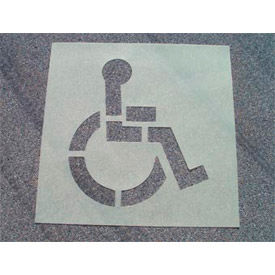 Parking Lot Stencil Kits
Parking Lot Stencil Kits Allow Convenient Labeling and Notification Placement on Pavements and Other Parking Lot Areas.

These kits are made with heavy duty clear poly templates and cardboard to provide long lasting durability and multiple use. Available styles are Handicap Parking Lot Stencil and Stencil Kit with 9''H A to Z letters and 0 to 9 number templates. Other templates include NO PARKING, VISITOR, RESERVED, IN and OUT signs, and arrow symbol. Stencils can be used and reused in parking lots, hallways, walkways, entrances, exits and more. Dimensions vary per template.