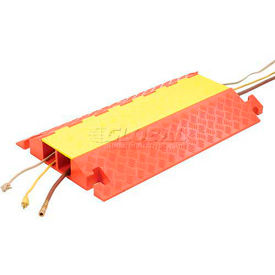 Vehicle Pedestrian Modular Cable & Hose Guard/Ramp
Cable Guard Ramps Help Protect Valuable Electrical Cables, Cords And Hose Lines From Damage While Ensuring Safe Passage For Vehicles And Pedestrian Traffic.

Cable Guard Ramps are made with non-conductive polyurethane to withstand heavy traffic use and provide long lasting durability. Interlocking 3' modular sections and end caps protect multiple cables or hoses. Cable protectors feature a hinged lid top for easy placement and removal of cable and hose lines. Recessed handle allows easy transport. End caps provide gradual taper to ground. Available types are General Purpose and Heavy Duty. Styles include 1-,2-,3-, 4- and 5-Channel drop over, open top or end caps. Widths and diameters range from 1-1/4" - 3-1/4".