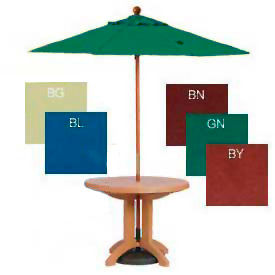 Wooden Pole Umbrellas
Wooden Pole Umbrellas Are Designed For Outdoor Pedestal Tables, Folding Tables And More.

Umbrellas with wooden poles are both aesthetically pleasing as well as functional. Canopies come in a variety of fabrics such as Polyester, Acrylic, Olefin, or Sunbrella to retain color and provide optimum performance in the sun. Crank or Pulley Mechanisms allow easy opening and closing of the umbrella. Can be used in freestanding applications with base (sold separately) or used in picnic tables with an umbrella hole. All umbrellas include reinforced ribs for extra strength and resistance to wind damage providing long lasting durability. Dimensions and color options vary per model.