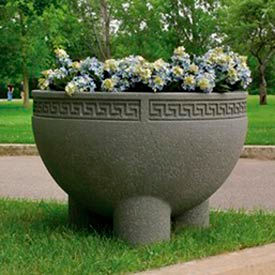 Wausau Tile - Round Concrete Planters – 36 Inch Wide
Wausau Tile Concrete Planters Are Perfect For Outdoor Environments.

Concrete planters provide an upscale look to any environment. Great for shopping malls, banks, hotels, parks, university campus sites and more. Concrete planters are made with solid, steel-reinforced precast concrete. Concrete planters offer a wipe-clean surface that also resists chemicals, moisture and extreme temperatures. Heavyweight concrete prevents theft and deters vandalism. Internal wick system is made using non-woven polypropylene wicks of synthetic fiber. Wick system also features a porous membrane that separates bottom layer of gravel and planting soil. Wicks are resistant to fungus and mildew. Includes a 2 diameter hot dipped galvanized steel fill pipe with pipe strap for watering plants and soil. Fill pipe sends water straight to bottom of plant. 2 thick foam insulation. Stainless steel drain lines for reservoir and over-flow draining. Meets ASTM standards. 2 Year Limited Warranty.