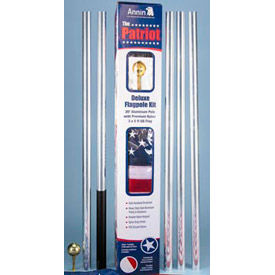 Annin® - US Flag & Banner Sets
US Flag & Banner Sets Offer A Complete Unit For Displaying And Hanging Flags.

Hang and display a US flag anywhere with this selection of US flag and banner sets. Nylon US Flag with Spinner Aluminum Pole includes a 3' x 5' Nyl-Glo ColorFast® US flag with two-piece white aluminum spinning pole with gold eagle ornament. White cast aluminum adjustable mounting bracket. Polycotton US Banner with Wood Pole includes a 2-1/2' x 4' printed US banner made of 70% poly & 30% cotton. Includes a 5'L wooden pole with varnished ball top, 2-way nylon bracket and non-furl swivel clip. 20'L Patriot Flagpole includes a five-piece 20'L in-ground aluminum flagpole with 3' x 5' Nly-Glo ColorFast® US flag. Gold aluminum ball top ornament.