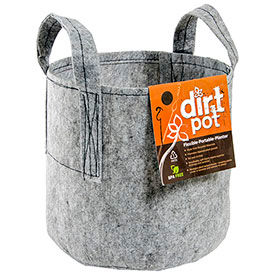 Hydroponic Pots & Containers
Hydroponic Pots and Containers Maintain and Secure Soil for Greenhouses, Gardening Areas, and more.

Hydroponic Pots and Containers contain soil to increase growth and plant health. Practical woven fibers are washable and reusable. Woven marled grey fabric allows for agriculture look and feel. Compact design is easy to use. Handles on select models provide portability. Breathable fabric allows superior drainage and airing. Maximum pot and container volume capacity ranges from 1-20 gallons. Dimensions vary per model.