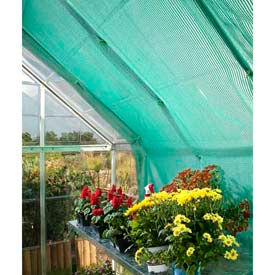 Greenhouse Shade Cloth
Palram Greenhouse Shade Cloths Protect Plants From Direct Sunlight.

Palram Greenhouse Shade Cloths are made of commercial-grade polypropylene or knitted materials to provide long lasting durability. Cloths keep greenhouses cooler in warm weather while protecting plants from direct sunlight. One piece of 30% green shade cloth can be repositioned as needed. Greenhouse Shade Cloth allows only 40% light transmission for delicate plants. Easily installs with corner brass grommets. Can also be used as a windscreen. Lengths range from 10" -144". Color is Green. Up to 120" width.