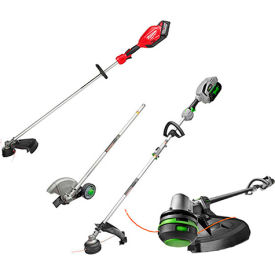 Cordless Electric String Trimmers
Electric String Trimmers Are Used For Trimming Hard To Reach Areas And Edging Sidewalks Or Driveways.

Electric String Trimmers Are made of high quality materials for long lasting durability and dependability. Cordless String Trimmer provides 12-16 inch cutting path and rechargeable batteries .Corded String Trimmer provides powerful motor, 13 or 15 inch cutting path, automatic dual line feed, rotating handle for edging, adjustable telescoping shaft and cord lock to prevent cord from disconnecting. Available types are Cordless String Trimmer and Corded String Trimmers. Types are Corded and Cordless. Sizes are 12 in., 13 in. and 15 in.. Voltages and amps vary per type.