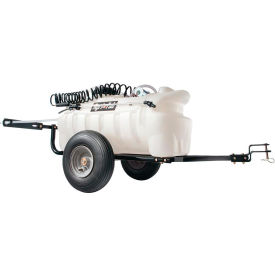 Tow Behind Lawn Sprayers
Tow Behind Lawn Sprayers Are Suitable For grub prevention, crab grass prevention, and perennial weed prevention, and more.

Tow Behind Lawn Sprayers attach to vehicles for easy steering control over vast lawns and pastures. Thick pneumatic tires provide a smooth transport to and from the project area. Most models connect easily to vehicle's electric source. Universal hitch fits most compatible tractors, and are equipped with a hand wand that can maximize spraying precision up to 30 extra feet in trees or hard-to-reach areas. Available Nozzle Type is Adjustable Spray Patterns. Gallon/Liter Capacity, dimensions, and additional specifications vary per model.