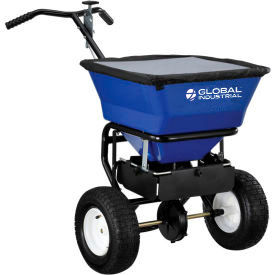 Walk Behind Salt Spreaders
Walk Behind Salt Spreaders Are Suitable For Driveways, Sidewalks, Small Parking Lots, Store Entrances, and more.

Walk behind salt spreaders provide low maintenance salt dispensing across surfaces in need of traction. Drop spreaders provide direct and targeted dispensing onto snow and icy areas. Broadcast spreaders are suitable for larger spaces in need of quick material distribution and feature an enclosed gearbox design to ensure all moving parts are protected from outdoor elements. Sprayer spreaders target walkways and sidewalks by manually spraying salt brine and liquid ice melters through a nozzle. Pneumatic tires maintain traction and balance through snow, slush, and ice. Unit covers seal over tub to prevent moisture buildup and spillage. Available gate control features are dial, nozzle, and slide. Most models accept spreading materials such as rock, salt, ice melt, fertilizer, and calcium chloride. Powder coated steel and polyethylene construction provide lasting durability. Weight capacity range is 80 – 160 lbs. Spreader capacity range is 0.8 – 2 CU.FT. Available color finishes are Blue, Red, Silver, and Yellow. Spread width and additional specifications vary per model.