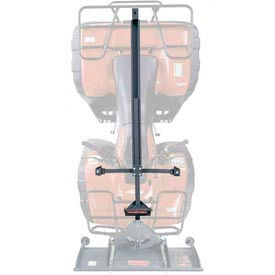 Swisher ATV and UTV Accessories
Swisher ATV and UTV Accessories Are Used For Outdoor And Grounds Maintenance.

Swisher ATV and UTV Accessories are made of 14 gauge steel construction to provide long lasting durability. Unique lower channel bracket provides extra support in high impact areas. Excellent blade lift height for optimum performance. Blade components have powder coat finish applied separately prior to assembly to increase structural tenacity. Accessories include ATV Blade Mount Kit, ATV Cart Dump Caart: 16 or 20 cu. ft., ATV Combo Basket Kit, ATV Mounting Kit, ATV Spreader, Truck Spreader, Universal Plow Blade and more. 2646 Universal Mounting Kit, UTV 10260 Universal Receiver Mounting Kit and 12019 Blade Mount Adaptor all sold separately. Available color finishes are Black, White, Yellow or Green.