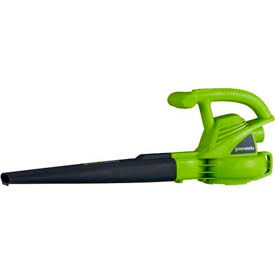 Corded Blowers & Vacuums
GreenWorks Blowers And Vacs Allow For Easy Leaf Clean-Up And Removal.

GreenWorks Blowers And Vacs are made of high quality materials for long lasting durability and dependability. Yard Vac provides powerful 14A motor, 16 inch vacuuming path and 6-position single lever height adjust lever. Corded Blower/Vac designed provides metal impeller to increase mulch ratio/eliminate debris, bushel snap-on shoulder bag with shoulder harness and toolless conversion from blower to Vac/Mulcher. Cordless Blower provides lightweight use and runs on rechargeable batteries. Corded models provide powerful motors and cord lock to prevent cord from disconnecting. Available types are Cordless Blower, Corded Blower, Corded Blower/Vac and Yard Vac. Available in a variety of MPH, voltages and amps.