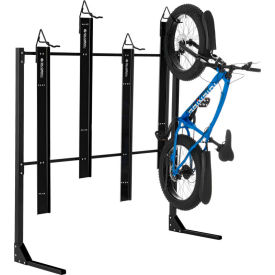 Vertical & Double Decker Bike Storage Racks
Vertical and Double Decker Bike Storage Racks Are Designed For Commercial Storage and Retail Bike Storage and Display.

Vertical and double decker bike storage racks secure varying quantities of bicycles. Available styles include Flange, Free Standing, and Wall Mount/Maxrack. Bike Racks save space for bicycle parking and indoor bicycle storage for bike stores, commercial parking lots and more. Bike storage racks are evenly spaced to provide added clearance space. Most free standing bike storage racks require 8' ft. minimum ceiling height. Most units feature solid steel lock rods, which accept U-locks or cable locks. Available types include Double Decker, Double-Sided, One-Sided, and more. Racks hold 1, 3, 4, 5, 6, 8, 10, or 12 bikes. Easy assembly. Dimensions and additional specifications vary per model.