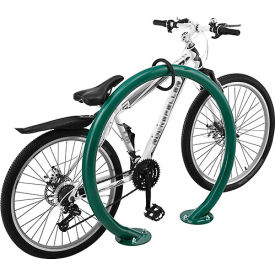 Global Industrial™ Circle Bike Racks
Global Industrial™ Circle Bike Racks Are Designed For Bicycles In Need of Secure Outdoor Parking.

Global circle bike racks are ideal for existing cement or hard surfaces. Simplistic design offers minimal space occupancy. Units accept a variety of bike locks and cables. Robust, heavy duty material construction offers lasting durability and upright support. Bike capacity limit is 2. Available bike rack measurement is 37" x 33-1/2" or 30" x 32". Colors and dimensions vary per model.