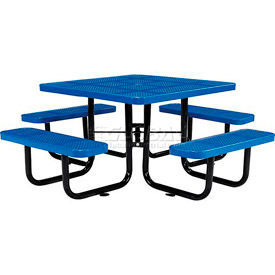 Perforated Steel Picnic Tables
Perforated Steel Picnic Tables Support High-Traffic Seating Areas Such as Parks, Campuses, Snack Bars, and more.

These picnic tables are made using heavy-gauge metal with a thermoplastic coating on benches and tabletop. Protective coating provides a smooth, high-gloss surface that stays cool to the touch for comfortable seating in the sun. Thermoplastic coating resists fading, mold and vandalism, and will ensure maintenance-free durability through years of high-traffic usage. Bench and table corners are beveled for safety. Mounting tabs allow anchoring to ground for stability and security.