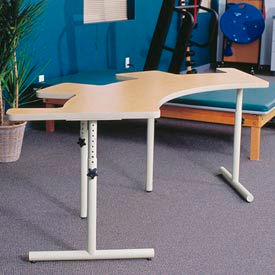 Knob Adjusted Therashape Tables
Knob Adjusted Therashape Tables Meet The Needs Of Patients And Therapists At The Lowest Price.

Adjustable tables offer versatile treatment for any healthcare setting. Provide wheelchair access for ADA compliance. Powder coated steel frame and metal legs allow height adjustments from 24-34"H at 1" increments using a hand screw knob. Made with a durable laminate work surface and advanced hydraulics. Curved design enhances accessibility for wheelchair users. ADA compliant. 2 Year Limited Warranty.