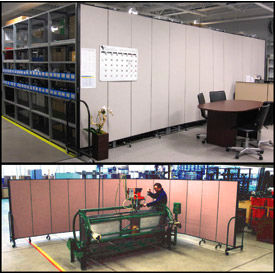 Screenflex® - Vinyl Upholstered Mobile Room Dividers
Mobile Room Dividers Instantly Partition Any Area In Your Facility Quickly And Easily Without Sacrificing Valuable Floor Space.

Self-contained portable partitions have no complicated or limiting track systems, no costly structural supports and no interference with building's heat, light or ventilation systems; simply move, unlock and unfold partitions the way you want them. These portable walls feature vinyl upholstered panels with 20 gauge powder coated steel trim covering 20 gauge galvanized steel framing. Panels are constructed of 1/2" closed cell honeycomb core with non-woven fiberglass facing and matte. Panels are joined with full length piano hinges and position control pivot-point hinges that allow panels to be placed up to 180 degrees for various configurations. Wide steel base supports and push handle end frames allow easy transport when folded. End panels include spring loaded latches for secure closure. For mobility, portable partitions include self-leveling, non-marring rubber casters and locking end casters for stationary positioning. No assembly or installation required. Choose from Blue, Mauve, Gray or Oatmeal. Lifetime Limited Warranty.