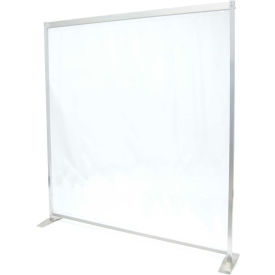 Clear Freestanding Partitions
Clear Freestanding Partitions are suitable to deflect transfers of airborne contaminants while keeping inhabitants safe in close-proximity spaces.

Clear Freestanding Partitions function as standalone dividers or to help create walls and one way traffic while maintaining clear visibility. Each unit features a flat surface suitable for social distancing or privacy is needed for cubicles, office rooms, classrooms, and other similar working environments. These clear freestanding desk dividers are an easy way to distance and protect employees while enabling visibility and communication. Each partition can be used on any flat surface where social distancing or privacy is needed. Package quantities and additional specifications vary per model.