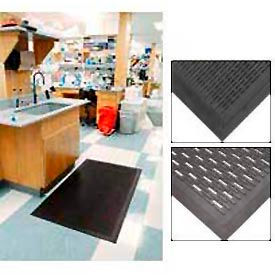 Indoor & Outdoor Heavy Duty Scraper Mats
These Scraper Indoor & Outdoor Mats Effectively Scrape Off Dirt And Snow From Shoes And Are Great For Use By Sinks And Drinking Fountains.

Entrance mats are made with a black natural, pliable rubber compound that is resistant to extreme weather conditions. Scraper entrance mats are used for use in heavily trafficked outdoor entrances, water or drink fountains. 5/16" thick mats offer a low profile with beveled safety edges to accommodate tight doorways. A rated by MVSS 302 regulations against flammability. Vented Mat features an open slot design that provides quick-dry ventilation. 1 year conditional Limited Warranty.

Reversible scraper mat features one side with flexible scrapers alternating with quick-dry drainage ports and the other side with clusters of stiff ridges. 7/16" thick with beveled edges offer trip resistance. Rated A per MVSS 302 standards for fire protection. 1 year conditional Limited Warranty.

M+A Matting (formerly Andersen) can have a +/- 3% dimensional variance due to the manufacturing process.