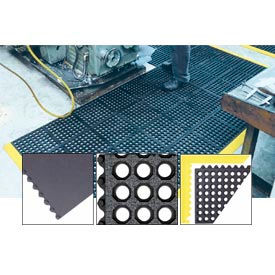 3/4" & 5/8" Thick Cushion Modular Drainage Systems
Resilient, Grease Resistant Rubber Anti-Fatigue and Drainage Mat Tiles Greatly Reduce Fatigue from Long Standing Jobs.

Anti-Fatigue Drainage systems cover your desired area with modular matting. Built-in connectors allow beveled ramp connection (Ramps Sold Separately). Ground matting that's so versatile, you can customize both width and length. Solid Rubber Tiles provide exceptional fatigue relief. Drainage Tiles have a perforated surface that allows for liquid draining and safety providing sure footing in industrial and commercial applications. Available with or without grit in 3/4" or 5/8" thickness.