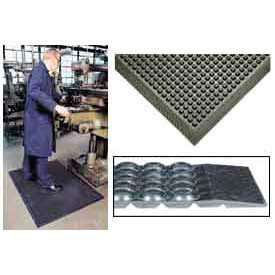 3/8" Thick Dome Top Rubber Molded Anti Fatigue Matting
These Molded Rubber Anti-Fatigue Floor Mats Provide Extra Relief For Workers Who Stand All Day.
Ergonomic matting that is engineered for maximum comfort and safety. Anti fatigue mats are used for packing and shipping rooms, assembly lines, workbenches, and any dry location where employees must stand for extended periods. These industrial mats feature resilient 5/16 diameter knobs that provide extra flex cushioning and allow cooling airflow beneath feet. These safety mats include beveled edges to help eliminate tripping. Molded-in one-piece 3/8" thick solid black rubber matting provides superior durability.
Use in dry, light to medium work areas
Ergonomic Raised dome design
Rubber construction
Superior offers an offset bubble design