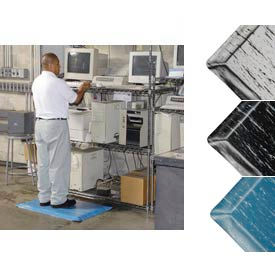 1/2" Or 7/8" Marble Vinyl Anti-Fatigue Mats
Marble Vinyl Top Anti Fatigue Matting and Industrial Mats Provide Plush Standing Comfort for Warehouses, Facilities, and more.

Marble vinyl top anti fatigue matting and industrial mats resist common chemicals and reduce fatigue for dry, high traffic areas. Anti-fatigue mats are abrasion resistant and have beveled edges for safety. Units feature a range of graphically designed skins suitable to users with detailed preferences. Additional specifications vary per model.