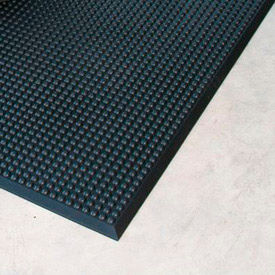 Raised Dome & Bubble Anti Fatigue Endurance Mats
Raised Dome Anti Fatigue Endurance Mats Easy Cleanability Is Used For Laboratories And Cleanrooms.
Anti-Fatigue mats are made from seamless, non-curling polyurethane and PVC for durability and safety with molded beveled edges. Closed cell construction maintains resiliency and makes mats easy to clean. Infinity Bubble, Raised Dome, and Grass-Like surfaces are some of the comfortable stylish surfaces offered. Infinity Bubble mats withstand moderate chemicals and UV exposure. Flame retardant. Cleanroom 100/ISO class 5 (Class 100). Multiple colors are available in a variety of sizes. 5-12 Year Lifetime Warranty.
1-1/2" & 1" thick vinyl top and sponge base mat provides the ulltimate in durability and comfort
Heavy Duty 5/8" Mats-for large workstations
Super Duty 1" Mats-for use in smaller standing workstations
High tech non-directional surface
Black/Yellow bordered mats for use in assembly lines, and pack and ship workstations
Dual Action Blend-polymeric sponge base and rubber mat surface for ultimate comfort