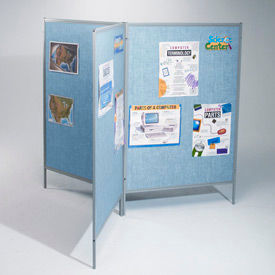 Balt® Floor Display Panels
Balt® Floor Display Panels Provide A Convenient And Versatile Way To Display Artwork, Notices And Other Information Intended For Group Viewing.

Balt® Floor Display Panels are constructed of hook-and-loop fabric or vinyl surfaces with anodized aluminum trim for long lasting durability. Side hinges attach panels at various angles to create different configurations. Operates as a temporary partition or room divider. Available styles are Single Panel/Fabric, Single Panel/Vinyl, Three Panel/Fabric, Three Panel/Hook and Loop and Three Panel/Vinyl Colors are Gray, Pacific Blue, Royal Blue and Silver Dimensions vary.