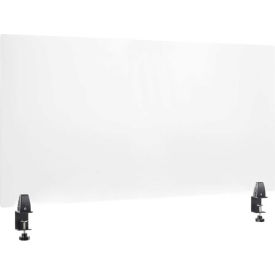 Desk Partition Dividers with Mount
Desktop Partition Dividers with Mount Allow for Privacy and Protection in Shared, Collaborative Spaces.

Desktop Partition Dividers can be mounted to individual workstations to accommodate social distancing guidelines in offices, classrooms, and other similar environments. These partition dividers are ideal when working or collaborating in shared spaces, helping to reduce the risk of exposure to coughs, sneezes, and other airborne droplets. Select models feature magnetic whiteboards for writing or hanging notes, while others offer transparent panels for convenient face-to-face communication. Available Base Construction Materials are Acrylic, Fabric, Glass, Plexiglass, and more. Most units are equipped with the required installation hardware, including adjustable clamps. Additional specifications vary per model.