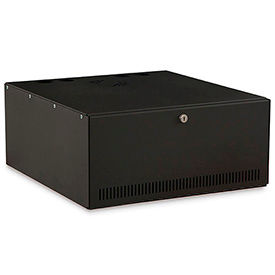 Kendall Howard™ Laptop and Computer Security Box
Kendall Howard™ Laptop and Computer Security Accessories Are Used For Safe And Secure Mounting And Display Applications

Kendall Howard™ Laptop and Computer Security Accessories are solidy made for long lasting durability and dependability. Davko Security PC/LCD Stand is designed to secure any small form desk top and LCD monitor from 15" to 22" that requires daily use. Used for retail stores, restaurant POS Systems, clinics, doctor's offices and educational and corporate organizations that need to keep their PC hardware safe from theft while maintaining attractive appearance. All accessories have Thin Client LCD Wall Mounting System allows installers to mount any VESA Compliant LCD monitor (15" to 22") and a thin client to a vertical surface. Used for digital advertising, touch screens and Kiosk interfaces. Two piece self-locking design installs easily. 15-30 degrees of tilt up or down, depending on monitor. DVR/VCR Security Lock Box is used for securing Digital Video Recorders, sensitive network appliances, and tower computers and more. Mounts to just about any wall surface. Made from heavy gauge steel. The hinge for the door is built into the frame and recessed to prevent tampering. Allows for up to two 4" fans to be installed inside. All security accessories have a Limited Lifetime Warranty.