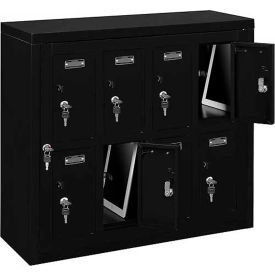 Cell Phone, Tablet and Wallet Steel Lockers
Cell Phone, Tablet and Wallet Steel Lockers Provide a Convenient, Secure, Space Saving Solution For Storing Electronic Devices and Personal Item Safely.

Lockers are made durable steel. Furniture can be mounted to the wall for ease of use, or placed on any flat surface and fasten to a wall to prevent tipping. Models equipped with both pad-lockable hasp and key lock provide additional security. Select units are electronically powered at 110 volts, feature transparent windows for quick visibility confirmation of stored contents and include (1) USB outlet and (1) standard power socket for each compartment. Master key set allows immediate access to all locker compartments as needed. Name plates, hardware and mounting brackets included with select units. Ships fully assembled.