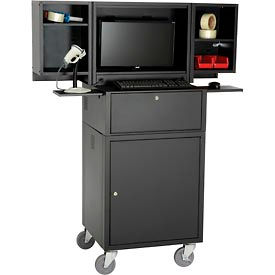 Mobile Fold-Out Computer Cabinets
Mobile Fold-Out Computer Security Cabinet / Workstations Provide Secure Storage and Mobility for Computer Equipment.

Our Mobile Fold-Out Computer Security Cabinet/Workstation features two fold-out locking storage compartments that protect monitor when not in use. Cabinets provide security, storage and mobile convenience for computer equipment. Open compartments reveal a complete workstation with plenty of storage, as well as left and right retractable mouse trays which are great for multi-user environments. The locking middle and lower cabinet can house your computer and other peripherals. Convenient rear-door access for both of these compartments enables easy access to wiring, without moving any devices. Powder-coated steel on heavy duty 5" casters for maximum durability. Choose from our easy-to-assemble versions (save money on shipping and assembly costs) or save time with our Ready-to-Go fully-assembled units.