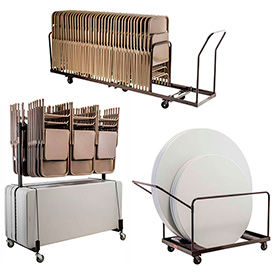 Folding Chair & Table Carts
Folding Chairs and Tables Provide Transport For Large Quantities of Seating and Table Furniture.

Folding chair and table carts are organize and store temporary furniture. Flat Stacking carts store chairs/tables in horizontal stack position. Edge Standing carts store chairs/tables in easy accessible upright position. Non marring 4" heavy duty casters (two fixed, two swivel). 2" welded angle steel construction. Brown. Easy assembly. Additional specifications vary per model.