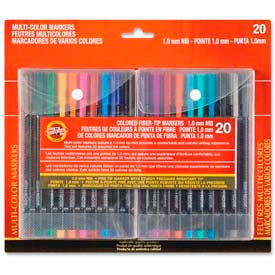 Medium Point Permanent Markers
Permanent Markers Are Purposed For Writing Smoothly and Legibly On Hard Surfaces.

Permanent Markers are made to provide long lasting dependability and reliability. Come in a wide selection of brands and styles to suit any particular personal taste or writing requirement. Permanent, quick-drying ink provides lasting impressions and eliminates smudging. Brands include Avery®, Sharpie®, Universal®, and Zebra®. Various Capped or Retractable styles come with Bullet and Chisel tips. Ink colors are Black, Blue, Brown, Gold, Silver, Red, Green, Orange, Purple, Yellow, and more.. Multiple color assortments are also available. Available in single units or various numbered sets and package quantities.