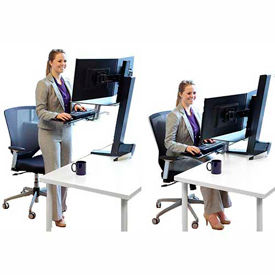 Sit and Stand Monitor Mounts
Sit and Stand Monitor Mounts Accommodate Display For Computer Workstations.

Sit and stand monitor mounts provide a healthy alternative to sitting all day. Health and Wellness of employees can provide more productivity by having better mental focus and less fatigue. Studies in office ergonomics show productivity increases of 12%–18% following an ergonomic intervention where employees are provided with well-designed ergonomic furniture. Comfortable computing can offer provable ROI on investment—healthcare costs associated with unhealthy computing and missed time are reduced while productivity increases. Additional specifications vary per model.