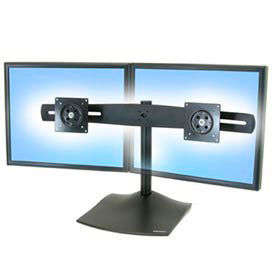 Dual Display Monitor Desk Mounts
Dual Display Monitor Mounts enable features your standard monitor stand may not have.

Dual Display Monitor Mounts also keep desks organized and saves valuable desk space by securing two monitors to one mount. Many LCD monitors come with a basic stand that has either limited or no adjustments to ensure proper ergonomic viewing. Attaching your LCD to an articulating arm allows you to adjust the height, tilt, pivot and rotation of the monitor arm to reach a comfortable ergonomic position . This will in turn increase your efficiency and productivity at the workplace. You have the option of mounting your monitor arm on a desk, wall, pole, or ceiling for optimal viewing angle. Almost all modern monitors and stands user the VESA standard for mounting.