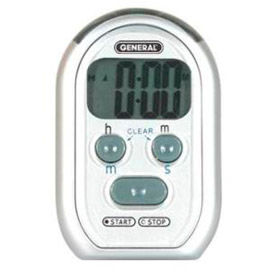 Timers & Stopwatches
Timers and Stopwatches Provide Convenient Time Maintenance and Supervision for Offices, Schools, and Commercial Facilities.

These units are made of plastic and other high quality materials for long lasting durability and reliability. Variety of types available to provide accurately timed readings. Features vary per model including water resistance, spring clips, stands, magnets, audible alarms, count-up/count down modes and automatic memory. Available in a variety of types and styles to meet specific timing requirements. Color finishes are Black, Silver and Silver/Black. Dimensions vary per type. Package quantity is 1.