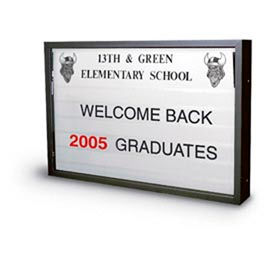 United Visual Products - Heavy Duty Outdoor Reader Boards
Decorate Your Property With These Informative, Heavy Duty Outdoor Reader Boards.

Made using a bronze anodized aluminum frame with all-welded 3/16" thick aluminum extrusions. These outdoor message boards feature weather-resistant 0.040 aluminum backing. Aluminum framed, vandal-proof 1/4" Lexan door with tamper resistant locks for security. Doors feature sturdy prop-arms and non-visible hinges for safe and easy door opening and closing. 1/8" translucent white acrylic copyboard with plastic copy rails hold interchangeable 4" on 5" letters. Includes 300-piece letter set. Comes standard with a white 12 H header panel. For custom message, please call to specify order at no extra charge. Message comes in 8 H black Helvetica lettering. Choose between Single-faced wall mount or Double-faced aluminum post mount models. Illuminated Boards feature 110V high output ballasts with cool white lamps to ensure lighting in cold weather.