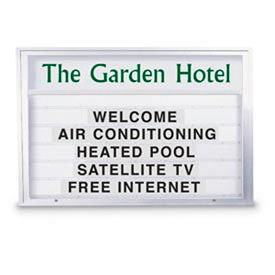 United Visual Products - Economy Outdoor Reader Boards
Outdoor Reader Board Signs Provide A Vibrant, Clear And Informative Message At An Affordable Price.

Signs can be mounted in brick, stone and concrete or with sturdy Aluminum Sign Posts (sold separately). Top header provides a large single or two line copy block. Top hinged door includes tamper-proof locks for security and a 10" white acrylic header panel. Crystal clear 1/4" lexan window. 3" face frame. Made using an extruded PVC clear copyboard track and 1/8" white acrylic background. Includes a 300-piece 4" on 5" letter and number set. Comes standard with an 8 H header panel. For custom message, please call to specify order at no extra charge. Message comes in 5 H black Helvetica lettering. Illuminated Boards feature a UL listed fluorescent light fixture behind the header.