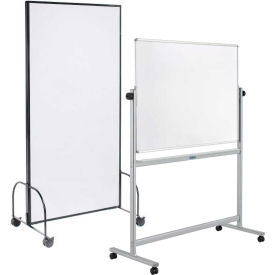 Global Industrial Mobile Whiteboards
Global Industrial Mobile Reversible Whiteboards Provide an Erasable Writing Surface For Schools, Conference Rooms, Halls, and more.

These whiteboards are made of thick panel with full painted metal magnetic whiteboards to provide long lasting durability and smooth writing. Steel legs and 3" swivel casters (all locking) provide additional structural strength. Mobile Magnetic Whiteboards provide the ability to transport work from room to room while providing twice the working space as wall mounted boards. Heavy duty magnets can be used to hang notes, ideas and reminders. Whiteboard Room Divider is trimmed with self-extinguishing extruded polymer for additional stability. Mobile Reversible Whiteboard rotates 360 degrees and locks into 3 angles for better viewing. It includes an accessory tray to hold markers, erasers and other needed items.Mobile Double Sided Magnetic Whiteboard, Deluxe Mobile Office Partition Panel w/Whiteboard and Mobile Reversible Whiteboard styles available in several sizes. Dimensions vary per style.