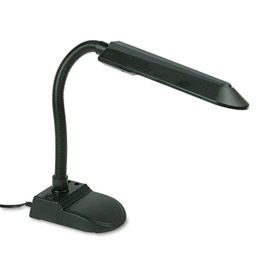 Desk and Table Lamps
Desk and Table Lamps Provide Ambient Lighting for Reading, Studying, Hobby Work, and more.

These lamps are available in many styles to suit commercial, industrial and residential environments. Lamp stands and shades come in a variety of materials for long lasting durability and attractive appearance. Bulb types include LED, Fluorescent, Halogen and Incandescent to meet specific room lighting needs. Adjustable neck or shade available on some styles to achieve perfect position. Desk lamps include Banker's Lamp, Swing Arm Desk Lamp, Suspension Desk Lamp, Single Arm LED Light, Low-Profile Under Cabinet Fluorescent, Plank Lamp and more. Decorative table lamps including Terran Table Lamp, Coppola Table Lamp, Eruption Table Lamp, Supernova Table Lamp, Pulsar Table Lamp and Falling Stars Table Lamp accent room decor as well as provide ambient lighting. Various Floor Lamps also listed here. Mount types and colors vary by model.