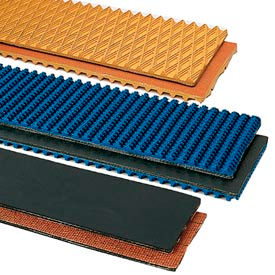 Industrial Conveyor Belts
This Selection Of Industrial Conveyor Belts Is Used For A Variety Of Applications From Light Duty To High Performance, Industrial Environments.

Choose the conveyor belt that's right for you! 5/32 Thick Black/Brown & 13/64 Thick Black Belts are 2-ply 150 1/32 Grade 2 belts that fit light duty applications including package handling and sorting lines. Rubber covers resist abrasion and weathering in non-oily applications. 15/64 Thick Belts are 2-ply 150 rough-top belts with a bare back. Provides a popular rough-top belt used as pulley lagging. Features a deep, non-skid hemp impression surface that enables products to be conveyed on inclines and declines. 9/32 Thick Blue/Brown Belts are 3-ply 135 blue Carboxylated Nitrile roughtop belts with bare back. Provides superior service with longer wear and better cut and gouge resistance than standard belts used in general purpose specifications. Great for box bound handling. ISO 9001:2000 certified.