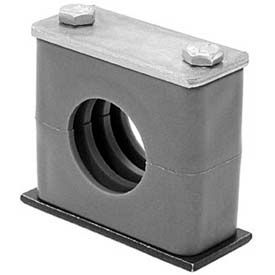 Hydraulic Standard & Twin Series Clamps
Buyers Hydraulic Hose Tube and Pipe Clamps Are Used For Hydraulic, Instrumentation And Chemical Processing Systems.

Buyers Hydraulic Hose Tube and Pipe Clamps are made for long lasting durability and dependability. Wide selection of clamps available for hydraulic hose, tube or pipe applications, include T-Bolt Clamps made of heat treated plated steel with plated steel locknuts. Stainless steel welded liner closes the opening between clamp ends during tightening. Smooth inner band prevents hose from being cut or bulging and allows greater torquing capability than conventional worm gear clamps. Assures equalized 360??clamping force around the hose. Available in 1 to 6 inch diameters. Hose Clamps are made of zinc plated corrosion resistant steel with 1/32 inch thick black vinyl cushioning. Available in 1/4 to 2-5/8 inch clamping diameters. Tubing and Pipe Clamps are available in Standard, Heavy Duty and Twin Series types and in 3/16 to 1-1/2 inch inner diameter sizes.