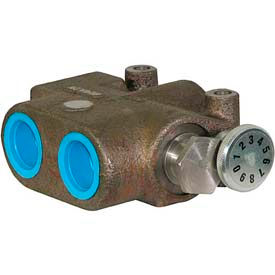 Hydraulic Motor Flow Control
Buyers Flow Control Values Are Used For Splitting And Controlling Hydraulic Liquid Flow.

Buyers Flow Control Values are solidly manufactured for long lasting durability and dependability. Priority Flow Divider Values split the oil from a single inlet into two separate flows. One is a controlled, adjustable flow which has priority on the oil entering the valve. The other is a secondary flow based on oil in excess of that demanded by the priority flow. Both flows may be used simultaneously at different pressures without affecting the priority flow rate. External adjusting knob controls priority flow rate. Load may be applied to either port without affecting priority flow rate. Side Ported Adjustable Flow Control Valves start or stop a hydraulic cylinder or motor and vary speed over wide range. Once set, maintain constant speed regardless of load variations. Excess flow is returned to tank or used to power another function. Available in 3/4 and 1 inch NPT and #12 SAE ports.