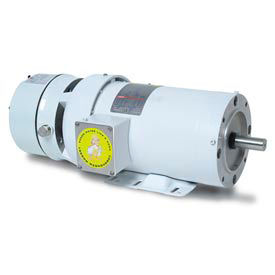 Leeson Washguard White Epoxy Brake Motor 3PH
Leeson 3-Phase Washguard Brake Motors Are Geared For Conveying, Bottling, Food Packaging, Pumping And Fan Applications Exposed To An Occasional Washdown.

Leeson 3-Phase Washguard Brake Motors offer enhanced performance in wet, humid areas with a durable Rust-Oleum® white epoxy coating and rolled steel construction for lasting reliability. Moisture-resistant interior coating inhibits corrosion. High temperature, moisture resistant IRIS insulation system assures long life on inverter service. Motors feature a stainless steel shaft, conduit box cover, nameplate, fan guard, special gaskets, and four endshield drains. 10:1 ratio for constant or variable torque at 1.0 SF. Meets IP55 enclosure protection. Suitable for use on VFDs. Available with 0.33, 0.5, 0.75, 1, 1.5, and 2 HP. Mounting types are C-Face and Rigid C. Enclosure types are TEFC or TENV. RPM and frames vary per model.