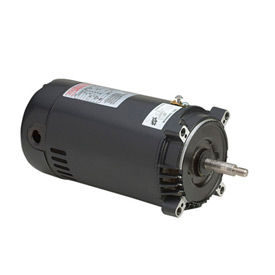 C-Face Pool Filter Motors
These Pool Filter Motors Feature A NEMA 56C Face Mount With Full Rated High Service Factor.

Capacitor start and capacitor run motors have 1081 design with high efficiency. 304 stainless steel ball bearings on shaft end with 303 stainless steel shaft. Pool filter motors feature CCW pump end rotation. 50°C ambient temperature. Single speed, single phase motors have automatic overload protection and open drip-proof enclosure. Provides up to 3450 RPM. 60 Hz.