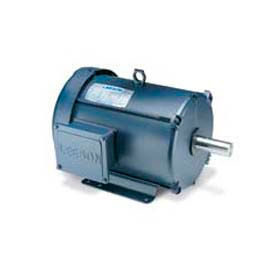 3-Phase Multi-Speed Motors
3 Phase Multi-Speed Motors Are Used For Commercial And Industrial Fans, Blowers, Pumps And Other Machinery That Have Variable Torque Characteristics.

3 Phase Multi-Speed Motors are solidly manufactured for long lasting durability and dependability. Wide selection of Leeson® and Marathon® brand motors are designed for equipment and machinery with variable torque characteristics. Prolonged use at low speed can result in significant energy savings. Totally Enclosed Fan Cooled (TEFC) or Drip-Proof enclosures are intended for use in environments that are relatively clean and dry. 3 Phase units with 1740/860, 1725/860 and 1800 RPMs are available with 1, 1-1/2, 2, 3, 5, 7-1/2, 10, 15 and 20 horsepower for various rigid frame and voltage designations.