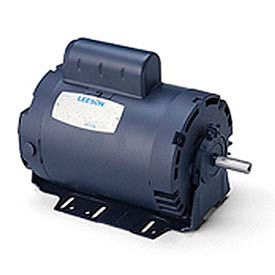 Leeson Instant Reversing, Resilient Base, 1-Ph, DP
Leeson® Instant Reversing Motors Are Used For Use On Parking Gates, Doors, Slide Gates Or Other Moderate Starting Torque Instant Revering Applications.

Resilient mount instant-reversing motors are single-phase, drip-proof motors for doors, parking gates, sliding gates or other projects requiring moderate starting torque instant reverse capability. Motors are made of solid rolled steel for long lasting durability. Each single-phase capacitor-start, induction-run motors feature a solid state instantly reversing switch and a manual reset overload protector. Base mounting comes with 48, 56FR, S56 and 56H frames. 115-volt motors have speeds of 1,350 and 1,625 RPM. Available in .33, 1/2 and 1/2 horsepower units. Amps range from 4 to 7.2. The 48 frame .33 hp motor features a DP enclosure, standard efficiency and 60 minute duty. The 56 FR motor has ODP enclosure, 60 hertz and an ambient temperature of 40° Celsius. Dimensions vary per model.