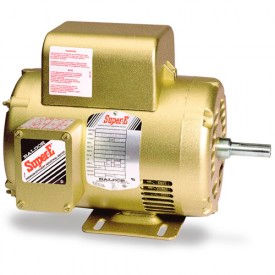 Baldor 1-Ph Premium Efficiency Motors
Baldor-Reliance Single Phase Premium Efficiency Motors Are Used For Conserving Energy Over Extended Time Periods.

Baldor Single Phase Premium Efficiency Motors are constructed of a heavy gauge steel frame, copper windings, dynamically balanced motors and ball bearings for long lasting durability. Use where continuous or frequent duty is required and for compressors, pumps, conveyors, fans, machine tools and air conditioning units. Enclosure types are Totally Enclosed Fan Cooled and Open Drip Proof. HPs are 0.25 to 5. RPMs are 1200 to 3450 Specifications vary per model.