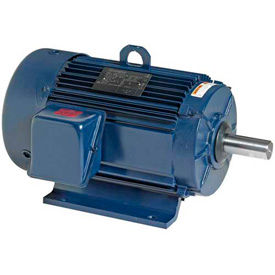 Marathon, , 3-Ph, TEFC
Marathon Motors, General Purpose High Efficiency, 3-Phase, TEFC Provide Reliable And Efficient Use For Industrial Machinery Installed In Damp, Dusty And Dirty Environments.

Marathon's High Efficiency, 3-Phase Totally Enclosed Fan Cooled (TEFC) Motors feature a general purpose design for continuous duty use on pumps, fans, blowers, compressors, conveyors, and more. Motors are made with heavy gauge steel or cast iron frames for long lasting durability and strength. UL recognized and CSA certified. Horsepower, Voltage, RPM, & Frames vary per model. Multiple Mounting options available.