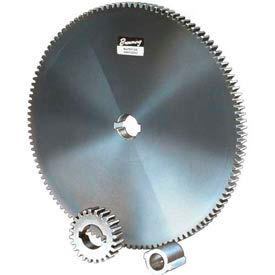 Browning Change Gears
Browning Change Gears Are Used For Easy Ratio Changes.

Browning Change Gears are made of steel for long lasting durability. Change gears can weld on a steel-hub to create a spur gear, drill and tap for bolt on applications, and weld on steeel hub for use with Browning Split Taper Bushing. Stocked with finished bore and two keyways. Used with stock Change Gear Bushings. Meets AGMA quality standards. 14-1/2 Pressure Angle; 10 or 12 Diametral Pitch.