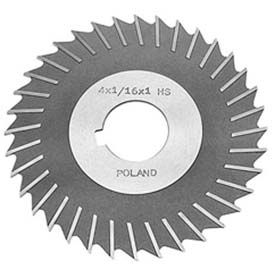 Metal Slitting Saws w/ Side Chip Clearance
Metal Slitting Saw w/ Side Chip Clearances Are Used For Deep Cuts Or Slots Where Clearance Is Required For Maintaining Width.

Metal Slitting Saw w Side Chip Clearances are made of high speed steel for long lasting durability. Side chip clearance provides greater chip room, more accurate cuts and improved surface finish. Number of teeth are 22 to 50 Diameter inches are 2" to 10" Hole size inches are 7/8" to 1-1/2".