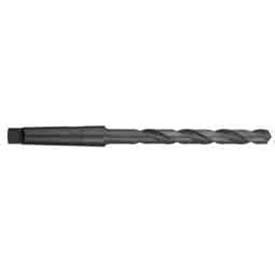 Taper Shank Drills - Metric Sizes
Metric Size Taper Shank Drills Are Used For Drilling In A Variety Of Steels Including Cast Iron And Other Ferrous And Non-Ferrous Metals And Alloys.

Metric Size Taper Shank Drills are made of solid High Speed Steel (HSS) for long lasting strength, durability and dependability. Standard 118° point angle makes them used for a variety of general purpose drilling applications and conditions. Right hand (clockwise) cutting direction and standard helical, two flute design. Tapered shanks allow for secure and accurate tool-holding system. Wide selection of Imported or Made in USA drills are available in various metric sizes from 3mm to 72mm in diameter and in 1, 2, 3, 4 or 5 Morse Taper shank sizes.